Future Proof Your Workforce
Education plays a critical role in every facet of a company's ESG strategy.
Our ESG + Education Playbook is the first of its kind – for ESG practitioners and global corporations that ties education to material ESG issues. Learn how education can be a tool for businesses to achieve long-term value creation, better financial outcomes, and improved Environmental, Social, and Governance (ESG) performance.
Explore the ESG + Education Playbook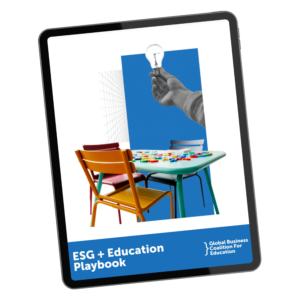 What's inside?
Explore the transformative potential of education as a catalyst for risk mitigation, value creation, and impact generation within 14 of the

most commonly reported

ESG topics.

 

Review existing

education-related

ESG metrics in line with globally accepted reporting standards. 

 

Find recommended solutions and metrics where there are gaps in standards.

 

Understand the reciprocal relationship between accelerated ESG performance and investments in education. 

 

Read 10 case studies from global businesses with successful education initiatives

 
No matter where you are in your ESG journey, this Playbook will help you invest in and report on education, optimize your ESG performance, and improve your bottom line.